Goal:
Outline the major requirements and quickly iterate a prototype for an MVP screening tool for the
CMS Accountable Health Communities
 grant, to be delivered 2 months later. Our team started with a Design Sprint following the outline by Jake Knapp in
Sprint
.
Role:
My role in the sprint was to execute user research, create the clickable mockup, implement user testing, and analyze user feedback.
Navigators (social workers, case managers) often have a short period of time with a patient in the emergency room to understand their social needs-- all of the factors that have an impact on their health outside of the hospital-- like access to transportation, food, education, financial stability, safety, and behavioral health resources. Navigators need a digital platform to collect patient information and implement the questionnaire with the patient (currently on paper). The outcome of the screening needs to display resources available to the patient and be used to fulfill report requirements to CMS. 

•Engaging developers in the design process upfront is not traditional, but it was a great new team bonding experience and helped push the boundaries for user considerations while providing the technical limitations to ideas (realism).
•Solution has to be broad enough for adaptation at more than 20 clinical sites, yet still focus on the navigator's usage of the tool and human interaction with patient care.
•We quickly realized that working with so many hospitals meant that we would deal with hundreds of varying opinions in user feedback. We created a stakeholders map to establish priority of feedback (influence by interest).
Stakeholders Map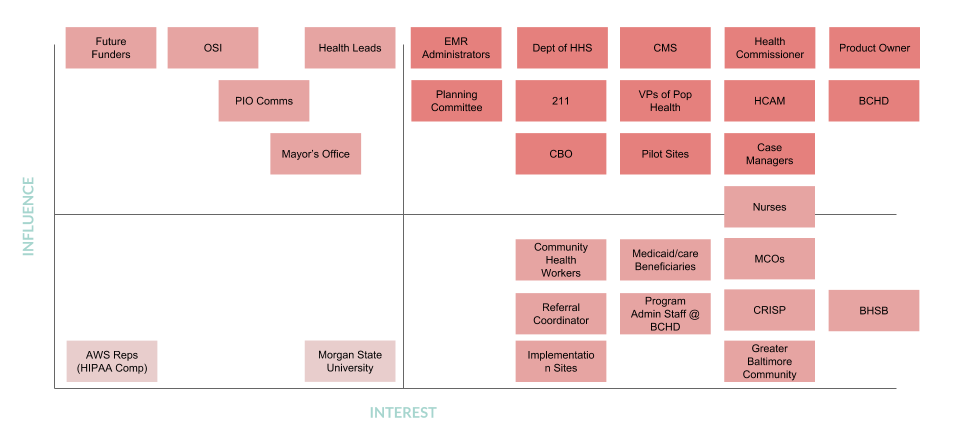 Deliverables: Sprinting to a Screening
Hours of expert interviews and white boarding, we created a journey map outlining the different users and the intersections of their actions so that we had an overall vision of the process for the CMS patient achieving its goal to 
receive social resources.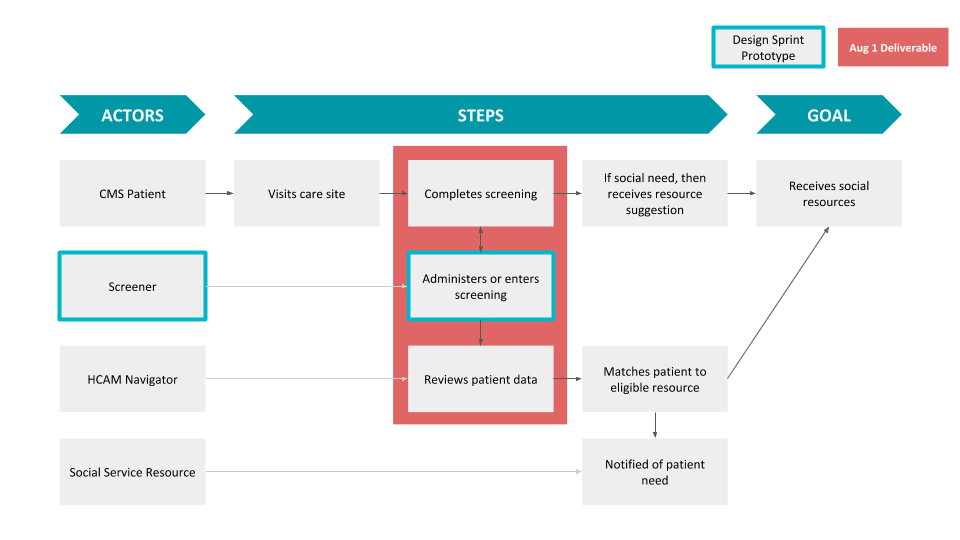 The team continued brainstorming with HMW statements to frame the various problems as opportunities for the screening tool. We voted on the most relevant ideas (below) and started prototyping opportunities on paper:
•HMW establish patient trust?
•HMW control access to the system?
•HMW allow screener/patient to navigate questionnaire to only answer what they want?
•HMW design a workflow that is broad enough to implement in various clinical settings?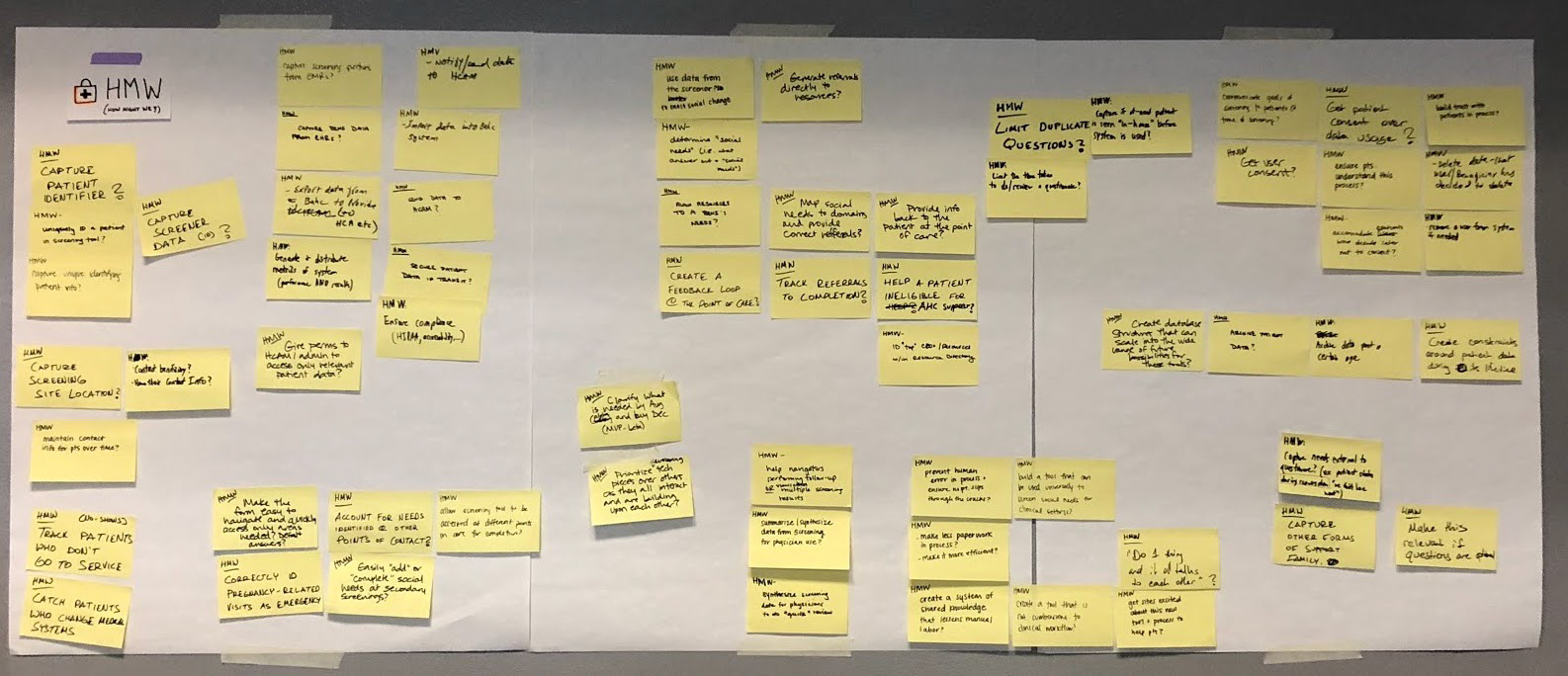 Solutions through Rapid Prototyping: Crazy Eights & Storyboarding
The team got creative with a
crazy eights
exercise to generate solutions for the 'How Might We' questions. Then, we voted on ideas and established a storyboard for the journey based on a combination of ideas.
The storyboard conveys the experience of the screener administering the AHC questionnaire in a web app tool.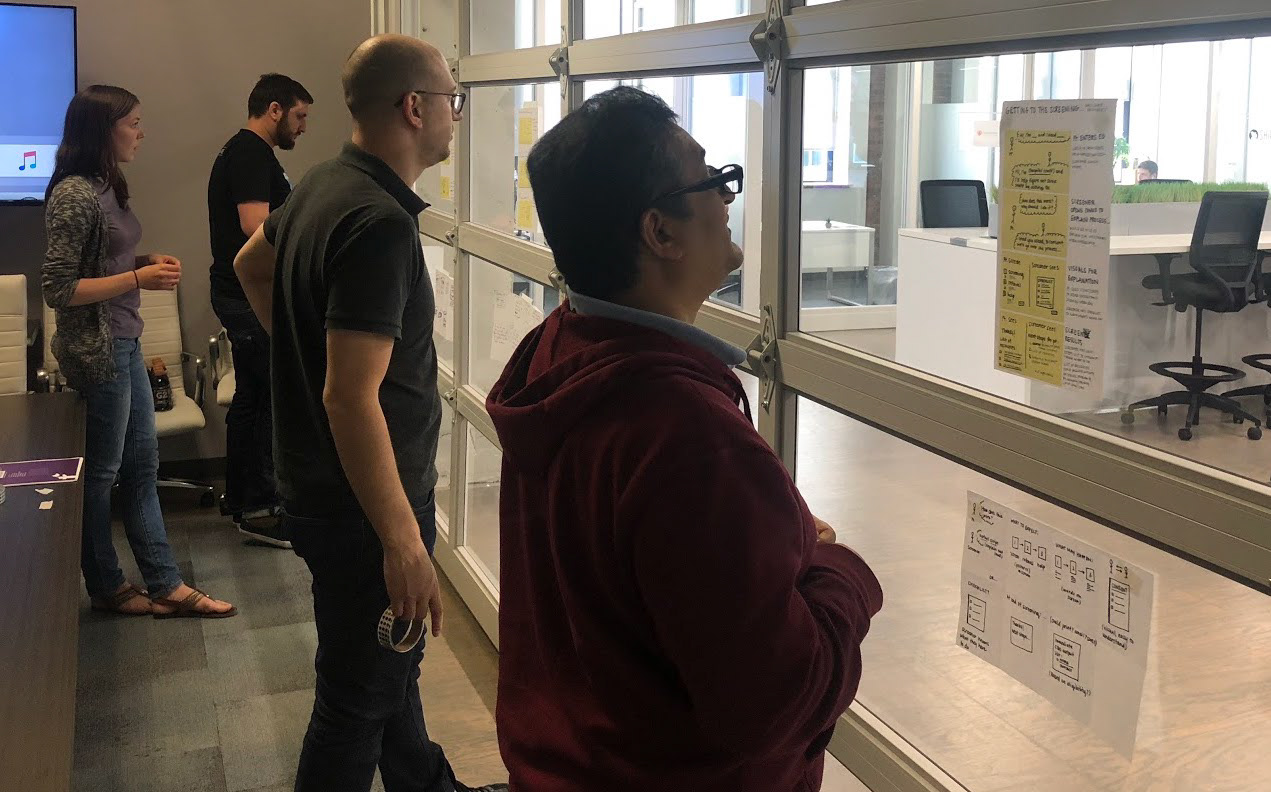 We made wireframes on paper sketches to translate into a low fidelity clickable/interactive prototype in Invision. Unfortunately, the prototype is no longer available to view online.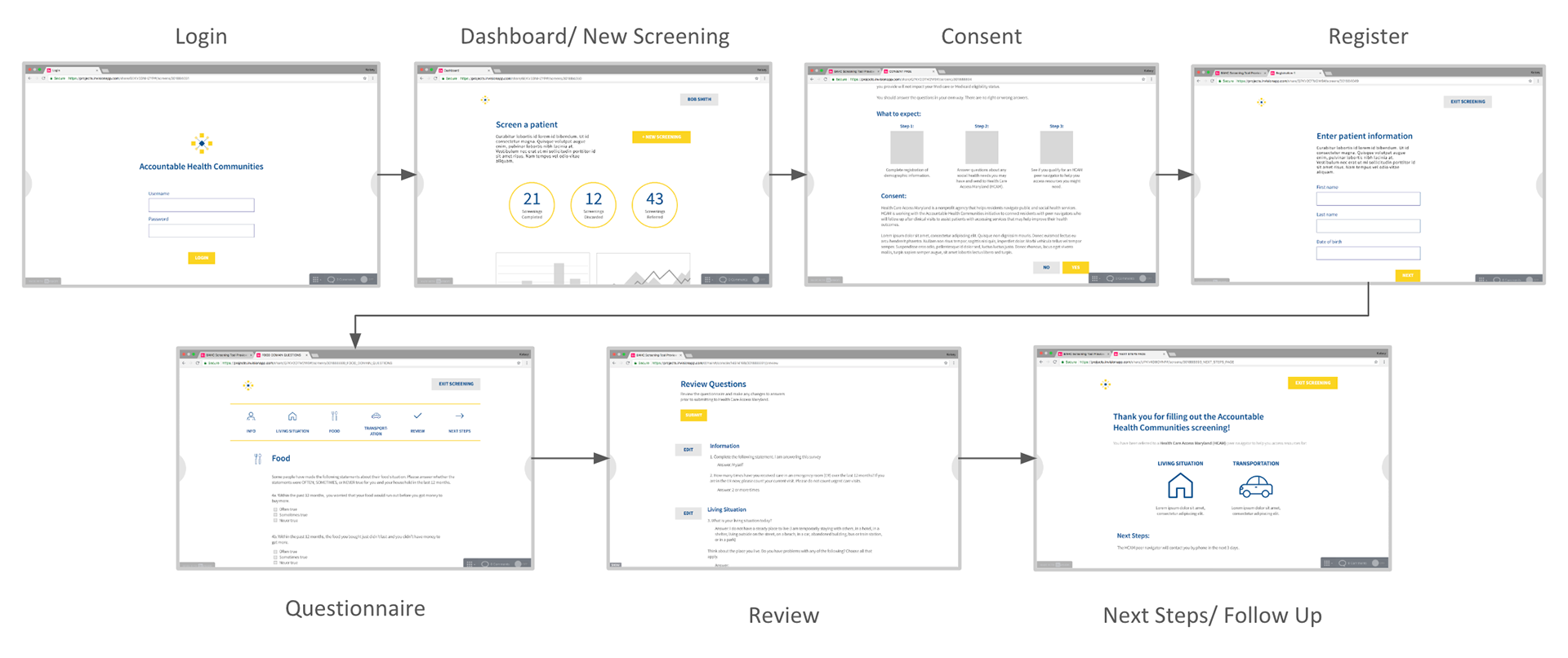 Next, we interviewed multiple end-users and stakeholders to test the prototype to better understand the ways which the tool can be iteratively improved. 
We met with
5
end users across 4 hospitals to get a variety of feedback. 
We combined our notes and created a report of the negative, neutral, and positive feedback from users.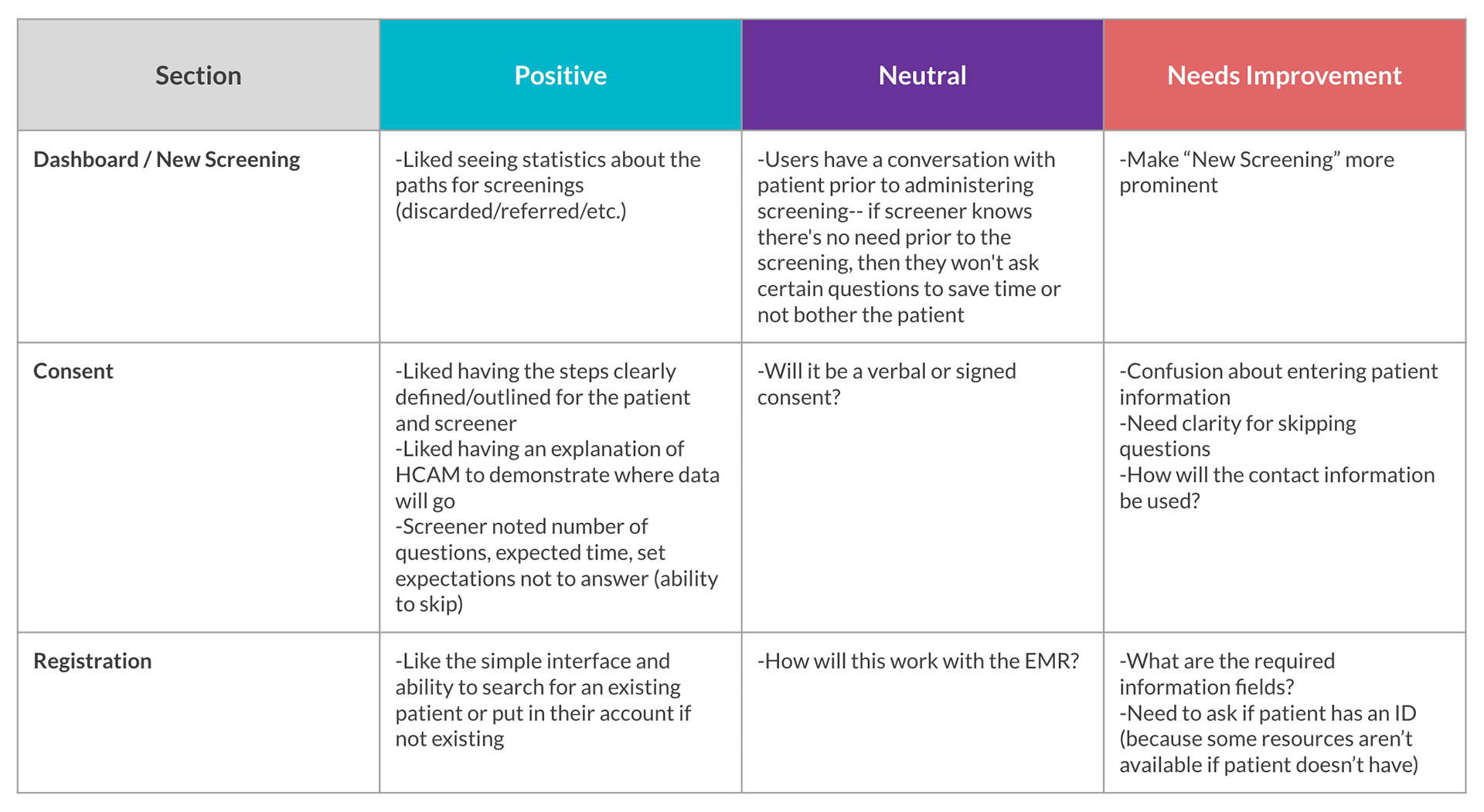 •All users interviewed agreed that the screening tool and resource directory would add value to their workflows.
•Necessary to establish trust with patients by explaining the purpose of the screening because they may not feel comfortable sharing their personal information with navigators.
•Need to explore impact of self-administering screening vs. screener administering with patient: 1) User experience potentially affected by loss of 'human-touch' (scripting); 2) How does this affect the functionalities of the tool for usability with people who are illiterate or vision impaired?
After making some changes after user feedback, the prototype and the insights were translated into user stories to fill our backlog in JIRA. We continuously engaged users for research and feedback on the product. The AHC project is scheduled to launch in April 2019.